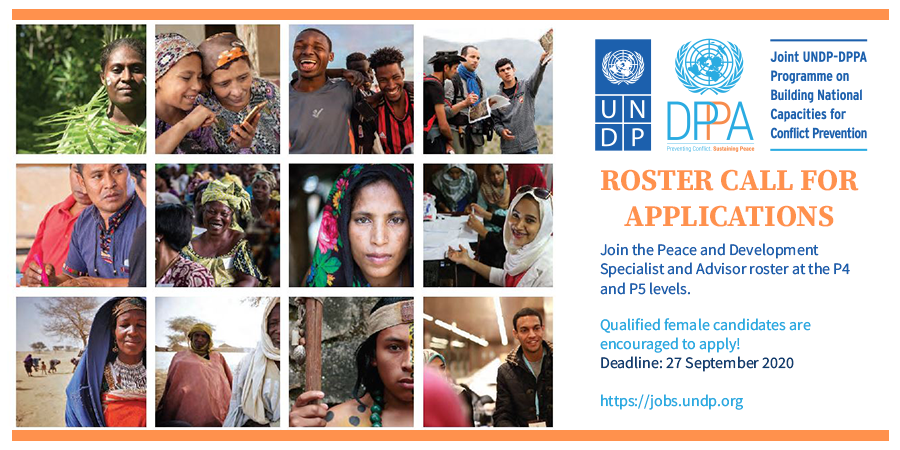 Apply to the Global Vacancy Roster for Peace and Development Advisors (P5) and Specialist (P4) Roster
The Joint UNDP-DPPA Programme on Building National Capacities for Conflict Prevention is a signature cross-pillar initiative that aims to enhance UN support to national stakeholders on conflict prevention and sustaining peace. Since its inception in 2004, the Programme has engaged in more than 70 countries and provided catalytic support to UN Resident Coordinators and UN Country Teams to advance the UN Secretary-General's conflict prevention agenda.
Peace and Development Advisors (PDAs) are at the forefront of the Programme's efforts to empower national stakeholders to strengthen existing mechanisms and capacities for inclusive dialogue, mediation and national peace architectures. PDAs also support the UN system to effectively adapt and respond to complex political situations and identify areas for preventive action. Over the years, the community of PDAs has grown significantly, reflecting the increasing need for conflict prevention as well as the realization of the value of embedding capacities for conflict analysis, conflict sensitive programming, and strategic leadership on conflict prevention within UN Country Teams.
A global campaign has been launched aiming to expand the pool of highly skilled candidates with substantive, technical and multilingual skills to serve in challenging duty stations. It also purposes to have a more geographically diverse representation and, above all, gender parity in the rosters and deployments.
Apply to the roster at the P5 level (https://bit.ly/3jC8lrA) and P4 level (https://bit.ly/3eXlfgk) 
Deadline 27 September 2020
Qualified female candidates are encouraged to apply!
Hear from our Peace and Development Advisors currently deployed: