Support to conflict prevention and peacebuilding programming
The Joint Programme supports innovative programming on conflict prevention and peacebuilding, including different types of catalytic engagements in areas such as social cohesion, prevention of violent extremism, cross-border peacebuilding and electoral violence prevention. PDAs also engage in supporting the implementation of Peacebuilding Fund (PBF) funded programmes, helping design appropriate interventions and supporting countries in developing their Peacebuilding Priority Plans. In 2017, 20 PDAs advised development and implementation of PBF projects.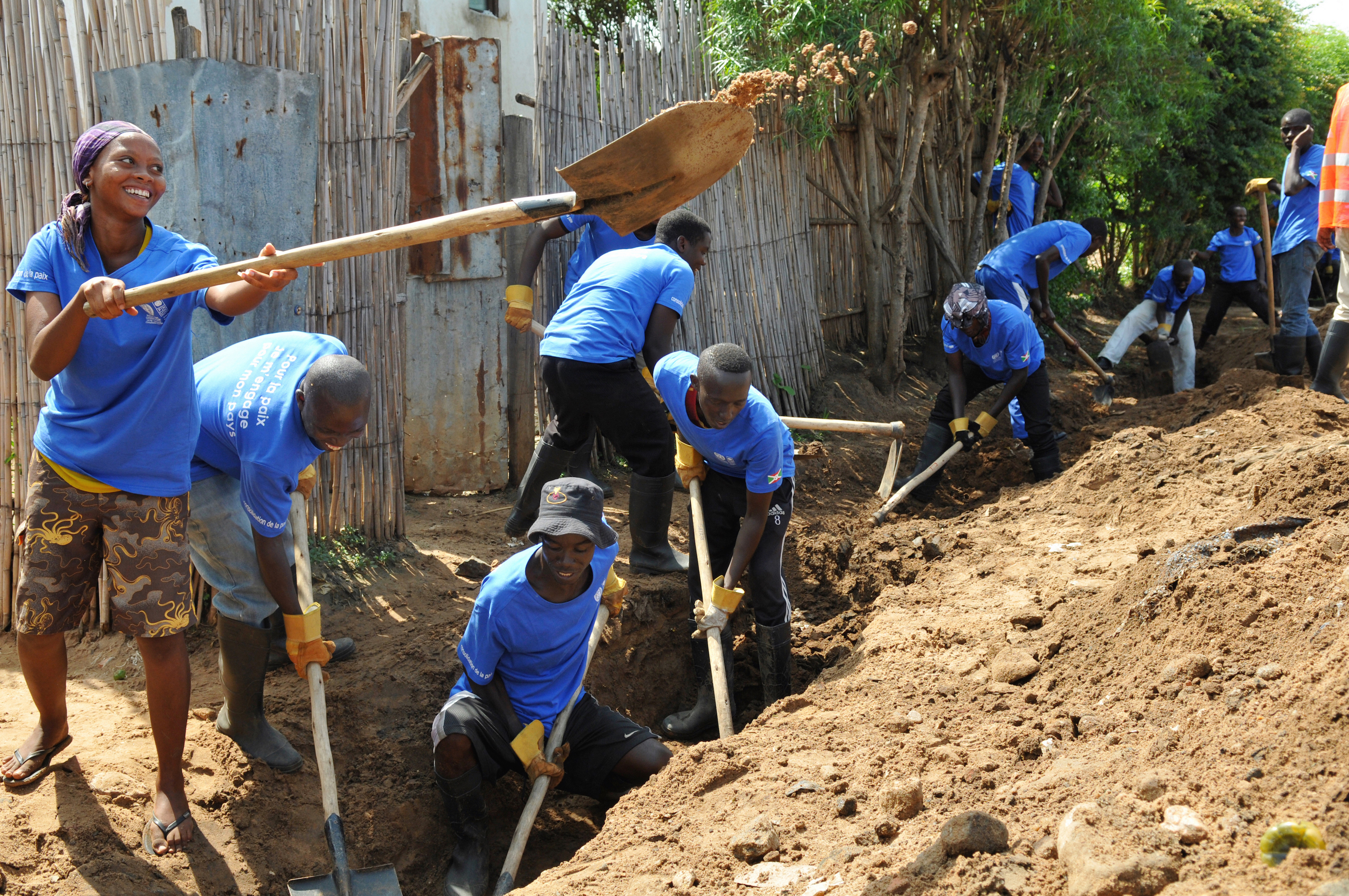 Patrice Brizard/PNUD Burundi
Burundi
The PDA in Burundi worked with the UN Country Team and the Ministry of Education to design a pilot "Summer Peace Camp" and train teachers on peacebuilding, effective communication and conflict sensitive student engagement. More than 10,000 students in Bujumbura Mairie Province benefited from this month-long programme. The PDA also played a significant role in re-activating the PBF programme in Burundi for the creation of "infrastructures for dialogue and social cohesion" at the local and national level. These efforts included bringing women from the grassroots to the national arena and connecting the national network of women peacebuilders - more than 500 women across the 18 provinces of Burundi - to women political leaders active in Burundi as well as those in exile. The PDA supported the PBF youth project that led to the establishment of Peace and Solidarity Clubs and youth-led community dialogues in areas that experienced the brunt of the political violence in 2015, including Bujumbura Mairie, Rural and Bururi provinces. These interventions, which combine social cohesion and conflict prevention with livelihoods, (to prevent youth from being instrumentalized due to the lack of economic opportunities) are showing positive social cohesion results in the worst crisis-affected areas.
Ecuador
In Ecuador, the PDA conducted several trainings for Government officials who subsequently were empowered to identify entry points for developing initiatives to address actual conflicts and, in some cases, created platforms to begin negotiating sensitive issues. Training courses on conflict prevention and conflict transformation have provided space to undertake
analysis of specific conflicts and to generate a better understanding
of the conflict parties' positions, interests, and needs and possible transformative approaches to address root conflict causes. Specific thematic conflict issues been given particular attention, including those pertaining to indigenous rights, land issues, illegal trade of small arms, citizen security, and protection issues. The Vice-Ministry of Interior has sought to replicate these training programmes for local staff. Training material on conflict prevention
and transformation has also been included in the curricula for capacity building of the Ministry's field staff. Upon the request of government, the PDA has further sought to carry out similar processes on some of the most sensitive conflict issues in the country. For example, following violent conflict in an oil-rich area in the Amazonia Rainforest between
the indigenous Huaorani and Taromenane, a training programme involving a participatory conflict analysis was conducted in this forest-protected area, with Police, Military and Ministries staff, including indigenous people from the Huoarani ethnic group. 
Kyrgyzstan and Tajikistan
The PDAs in Kyrgyzstan and Tajikistan coordinated and developed inter-agency work on conflict prevention in cross-border areas of Tajikistan and Kyrgyzstan in the Ferghana Valley. Supported by the PBF and the Swiss Agency for Development and Cooperation this initiative is jointly implemented by several partners in both countries including UNDP, WFP, UNICEF, FAO and UN Women, with the UN Regional Centre for Preventive Diplomacy for Central Asia and OHCHR as strategic partners. The first phase, which began in 2016, was the first cross-border initiative supported by the UN Peacebuilding Fund. In 2016, 31 small infrastructure projects were implemented in these border areas. The interventions helped significantly reduce tensions over scarce natural resources and dilapidated infrastructure, directly benefitting over 25,000 community members on the Tajik side of the border alone. A survey of beneficiaries found that only 11 per cent of respondents expressed trust and openness to work with other ethnic communities at the start of the process, compared to 30 per cent after the completion of dialogue sessions, which demonstrates the impact of the programme in enhancing trust in the border communities. The project's first phase helped build social and cultural ties between communities, especially among youth and women groups. The project will continue to address sources of community-level tensions that in the past have led to violent conflict. 
Sri Lanka
The PDA in Sri Lanka led and managed a Peacebuilding Fund supported programme in close coordination with the national counterparts to address structural drivers of conflict and create national infrastructures for long-term peace in Sri Lanka. This involved undertaking cutting edge evidence gathering and programming including the development of a peacebuilding perception survey, and a peacebuilding hackathon to develop a web-based solution for monitoring and tracking peacebuilding activities across the country. Furthermore, based on the experience in Sri Lanka, the PDA is providing technical expertise to scale up the peacebuilding perception surveys to be undertaken in Nepal, Myanmar, and Fiji. The PDA is working with the other PDAs in these countries to see how the surveys can serve as an innovative tool to inform political analysis, ensure cross-country comparisons for early warning, and how they can inform programming of the UN Country Teams in the region.